Geekbench 5 scores of RTX 4070, 4060, 4050, and AMD RX 7700S leaked
AMD and NVIDIA unveiled their newest laptop discrete GPU lineup earlier this week, using the RDNA 3 and Ada Lovelace architectures. Although it appears that some of these GPUs' benchmarks were leaked before their release in February.
The RTX 4060 and 4070 NVIDIA GeForce graphics cards will have 8 GB of GDDR6 RAM and will feature a regular 35W profile and a 25W Dynamic Boost Range in addition to a TGP of up to 115W. While the RTX 4060 will have 3072 Cores, 8 GB of memory, up to 2370 MHz boost clocks, and a 128-bit bus, the NVIDIA GeForce RTX 4070 will have 4608 Cores, 8 GB of memory, and up to 2175 MHz peak clocks. On the other hand, The RTX 4050 is aimed at budget gamers with 6GB of VRAM and a boost clock of up to 2370 MHz at its 115W TGP range.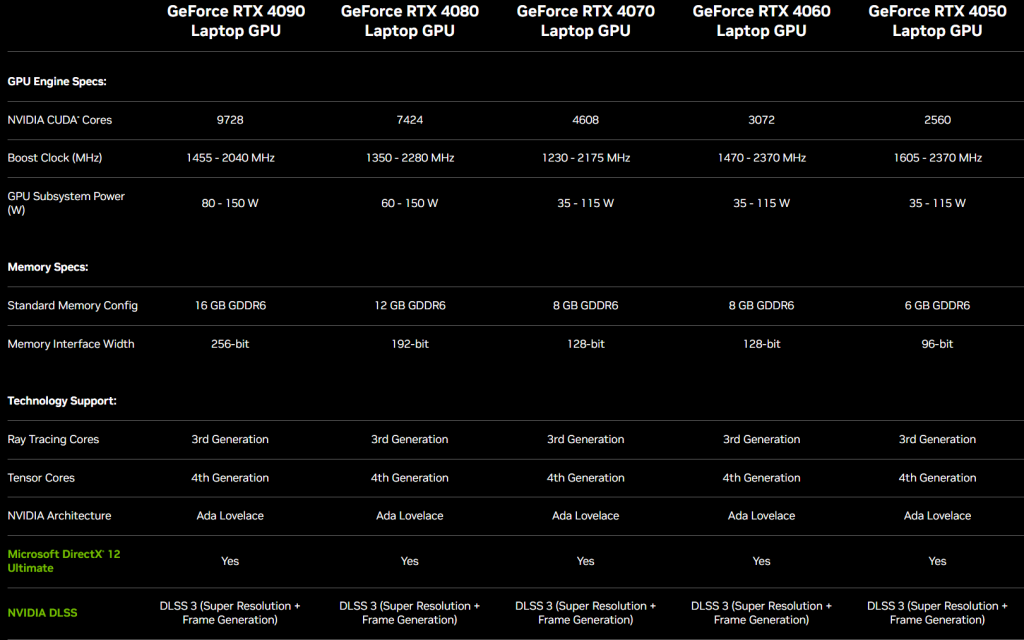 AMD is also upping their game with RX 7700S. It is based on the RDNA 3 architecture and utilizes the Navi 33 GPU. It features 32 Compute Units with 2048 shader processors, 8 GB of GDDR6 memory at 18 Gbps, and a 128-bit bus interface. The GPU is stacked with 32 MB of Infinity cache, and the TDP is rated at 75-100W.
Coming to the leak gives us a rough idea about these GPUs' performance. We cannot compare them directly as all benchmarks are on different laptops, and the performance of a GPU heavily depends upon the cooling system and wattage fed to the GPU.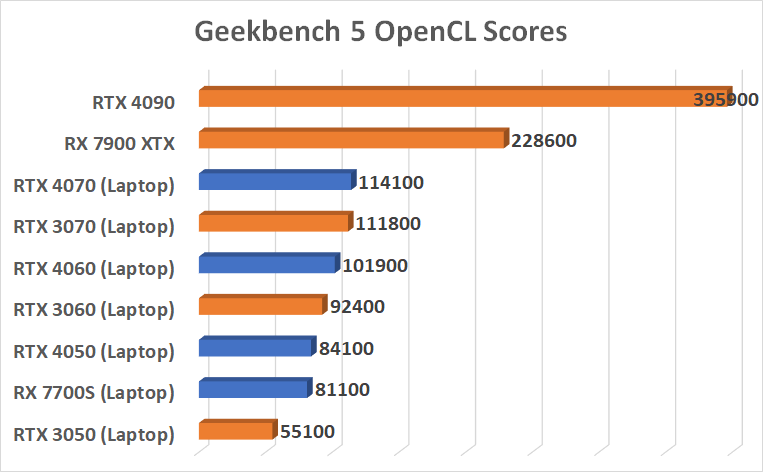 The leaked benchmarks don't show massive performance jumps as they are hardly 10 percent higher than RTX 30 series counterparts. RX 7700S is also in a similar position.
RTX 4050 is an exception, with over 50 percent of performance gains over RTX 3050. This year, I think it will be a popular choice for entry-level and budget gamers. The performance of other GPUs is not impressive, but we will have to see actual benchmarks in consumer-grade laptops rather than engineering samples.