Leaks from GeekBench confirm that there will be a Galaxy Tab S8 FE and it will be powered by a MediaTek Chipset and run on 4GB RAM
Samsung released three models of the Galaxy Tab S8 series on February 9, 2021. The three tablets follow the same naming pattern as the S series phones flagship. There were expectations in February that there would also be a Tablet S8 FE in the collection just like the S7 series in 2021 but that didn't happen. Only the regulars (Galaxy Tab S8, Galaxy Tab S8 Plus, Galaxy Tab S8 Ultra) were launched.
However, the latest appearance on the popular benchmarking platform, GeekBench has revealed that there will indeed be an "FE" range addition to the Three Tab S8 Series that was released in February.
The source, Galaxy Club revealed that the Galaxy Tab S8 FE has passed the GeekBench benchmark. Geekbench is a cross-platform CPU benchmarking tool for computers, smartphones, tablets, and other gadgets. 
The three tablets released earlier vary in size but are powered by the same Snapdragon 8 Gen 1 CPU and they come with a stylus.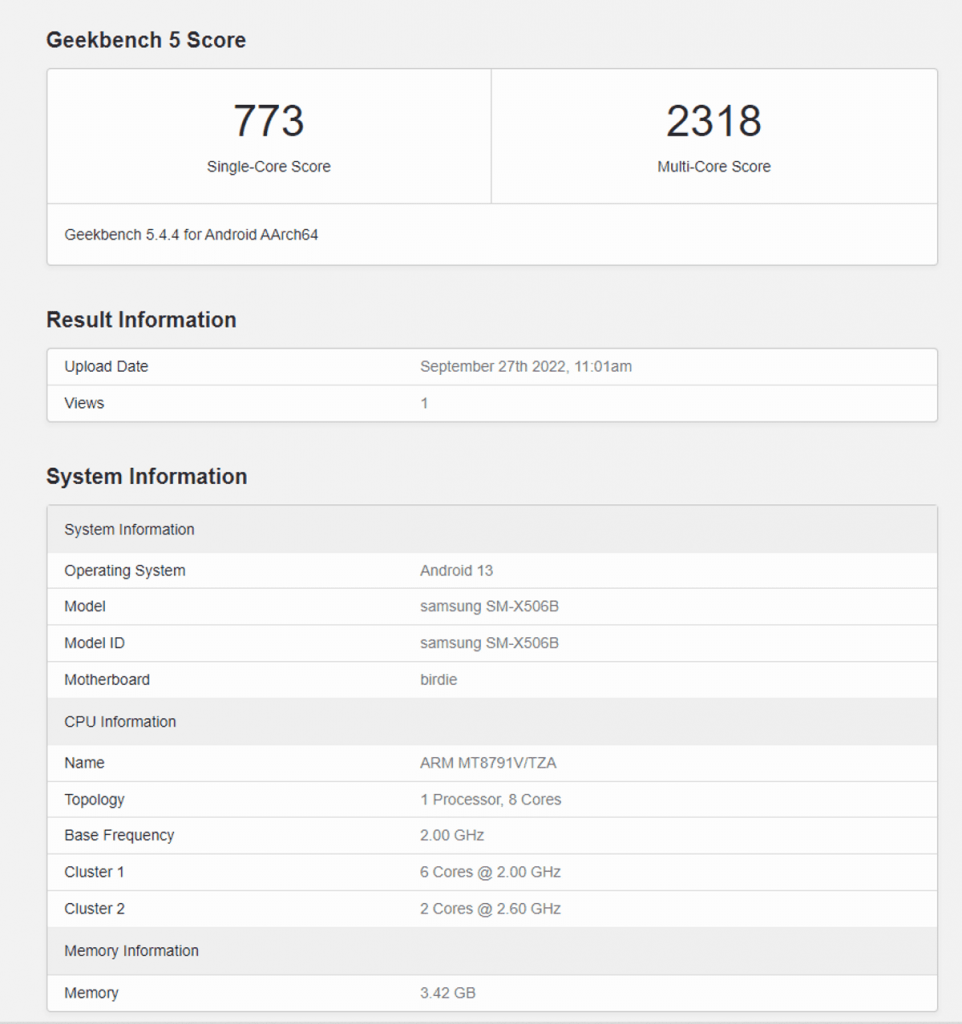 The upcoming S8 FE tablet will be powered by MediaTek's MT8791V/TZA SoC, also known as the Kompanio 900T, an 8-core processor with two cores running at 2.6 GHz The device will run on Android 13 and with a 4GB RAM.
Following key specs given on GeekBench, GalaxyClub claimed that the SM-X506B is the 5G model and that there will be another model with the SM-X500 codename which might come as Wi-Fi only. The Galaxy Tab S8 FE is anticipated to be offered in a variety of configurations, just like the Galaxy Tab S7 FE.
There is no news yet from Samsung confirming a launch date but there are rumors that the launch may not happen again this year, until 2023.