Chinese website, Bilibili leaks Intel's 13th Gen Raptor Lake CPUs, revealing interesting technical specifications.
A few days ago, Intel's upcoming Raptor Lake core i5-13600HX mobile CPU was spotted on the BAPCo database. The CPU was listed for evaluation, with final results yet to be published. A major Raptor Lake SKU list leaked on the Chinese video sharing platform, Bilibili. 
The leaked SKU includes 14 CPUs ranging from core i3-13100 to i9-13900. The leak highlights various technical specifications, including base frequency, TDP, Cores, Cache, Integrated Graphics Processor, Revision, and QDF.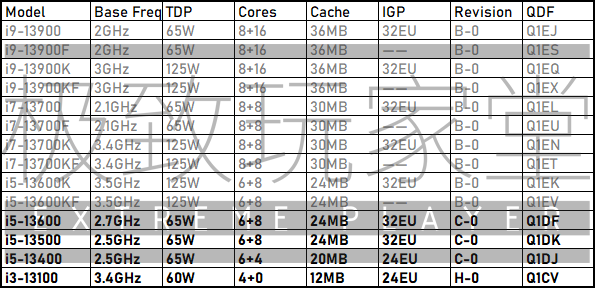 The leaked SKUs also offer a rough idea of how many overclock-ready processors consumers can expect from the Raptor Lake line-up. As per the leak, there are six unlocked CPUs, of which three do not come with an integrated GPU; therefore, consumers will need to invest in a dedicated GPU.
Readers are advised that the Raptor Lake SKU line-up isn't entirely out yet. The leaked list does not include Intel's low-end CPUs — the Celeron/Pentium models.
Here's what we know about Raptor Lake CPUs so far and what consumers can expect:
DDR5 support
The CPUs will retain the hybrid microarchitecture combining the Raptor Cove Performance cores and Gracemont Efficiency cores. This time, however, the number of E-cores is bumped to twice.
While there is no official release date on the Raptor Lake release, rumors indicate that Intel's new CPUs will launch sometime in Q4 2022.